I had a thread like this a while back in RD.net, but why not again?
My top 5 (for purely arbitrary asthetic reasons):
SAAB J 35 Draken:
A Swedish fighter that first flew in 1955, last flew (in Austrian service) in 2005. Because the Swedish knew that if they got into a fight with the Soviet Union strategically important sites will be quickly overwhelmed, this, like many Swedish weapons, is designed for guerrilla warfare. Specifically this means that it is designed to take off from public roads, with the ability to be refuelled and rearmed within ten minutes.
The double-delta wing design reduces drag while still enabling a high degree of maneuverability. Plus it just looks so stylish.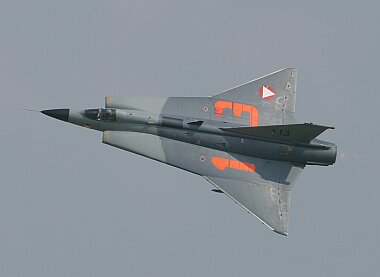 Boeing Bird of Prey:
An American advanced stealth technology demonstrator from the 1990s. In order to reduce costs, they used an off-the shelf engine originally made by Pratt & Whitney Canada for civilian buisness jets, with hydraulic contols instead of a fly-by-wire system, and with many other components cannibalized from a wide veriety of aircraft.
It has no numerical designation (e.g. "X-##") due to its covert nature. As deceptively simple as it is, I think it's the most futuristic looking thing ever flown. It wants to fly in space.
Dassault Rafale:
Modern French "omnirole" fighter. Originally the French were in on the Eurofighter project, but when there were disagreements about the new fighter's characteristics (the French needed a very multirole, carrier-compatible fighter), and about who would build what (the French wanted one of their own companies to design the engines), they split off and decided to design their own fighter. The resulting aircraft is supposed to be extremely versatile, hence the term "omnirole" instead of the usual "multirole". The Rafale single-handedly replaced no less than 5 different aircraft in French military service.
Personally, I like canard-delta wing designs, and the Rafale is definitely the most attractive of the canrad-deltas.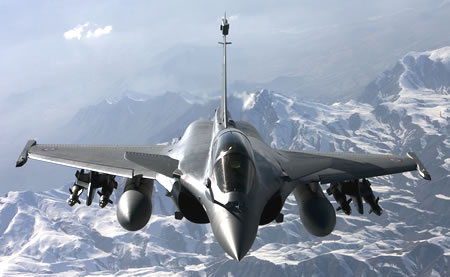 Sukhoi Su-34 Fullback:
A new strike fighter, the Russian equivalent of the F-15E Strike Eagle: It is essentially designed to perform airstrikes, but with the capability to defend itself against enemy fighters. As a result, the Su-34 is based on the Su-27 Flanker series of air superiority fighters. Its large tail (I think called a 'stinger') houses various countermeasures and a rear-facing radar, said to be capable of directing missiles toward persuing enemies. For budgetary reasons, it has the same engines used in the baseline Su-27, which is fine except the Su-34 is substantially heavier, meaning its current performance doesn't live up to the design's potential.
I like it because it has a very unusual look to it.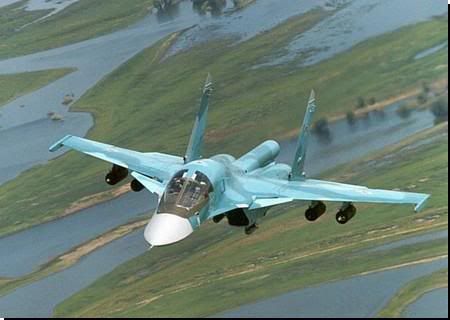 Vought XF5U:
Nicknamed the "Flying Flapjack", this was an experimental US Navy fighter from WWII. Apparently this design was very promising, being capable of very low speeds (for short takeoff & landing), and very high speeds. It had two engines, but a unique system of gears alowed both propellers to be driven by a single one, in case one of the engines was damaged. It was also capable of tilting its propellers up and down to assist in maneuvering, like a propeller equivalent of thrust vectoring.
Because you need the popellers to cancel out the wingtip vortices which cause a lot of drag, the design only flies if you use a prop engine. So when the US Navy began taking an interest in jet engines, the project was cancelled.
Although an earlier tech demonstrator, the Vought V-173, did fly, the XF5U itself did not. Unfortunately the XF5U prototypes were destroyed, but they were so tough that it took a wrecking ball to do it.
Personally, I have a problem with the nickname. "Flying Flapjack"? Looking at the thing I'd rather call it "Turtle" or "Scarab" or something. Maybe those aren't awesome names but it's better than calling it a pancake.