Thanks for responding, Mr. Samsa.
Mr.Samsa

wrote

:

MillsianUtilitarian

wrote

:

Wow! I cannot believe you said that! It is so clearly false. Think about it for a minute - children raised in communities together without a common language (or any language) develop their own language and communicate verbally with each other naturally. Animals actively raised from an early age to understand language cannot even come close to the level of human comprehension.

That's because it's an almost impossible thing to test.. The closest example of it being attempted was with the chimpanzee Viki in the 50s, and despite the limitations, the results are fairly encouraging. The problem is that you will never be able to set up a situation where an animal is raised exactly like a child, and have their critical development periods overlap in a meaningful way that has them progress in exactly the same way.
Children do not need to be raised "like a child" in order to develop language. They do not need to even be exposed to language. Therefore, if animals have the same capacity for language, then they would not need constant instruction. You made an earlier claim that animals cannot communicate verbally with the same sophistication because they do not live in a culture that has language like humans do. That is false.
Mr.Samsa

wrote

:

However, you need to remember that we don't need animals to write Shakespeare in order to say that they have language. For example, the fact that animals can use tools is now a well-accepted fact of the world, but this fact isn't refuted by pointing out that chimpanzees haven't built a rocket yet. Differences in degree, not kind.
I agree! But, certain things need to be pointed out.
1. Only a few animals can use tools.
2. Only a few animals can communicate with sophistication.
3. Nonhuman animals having a rudimentary ability to communicate is not an argument against humans having a unique language instinct, or a unique capacity for language. In fact, it is an argument
for
a human language instinct.
Mr.Samsa

wrote

:

MillsianUtilitarian

wrote

:This is not something that is "cultural," this is something that almost all psychologists and linguists agree upon is innately human.

Yeah, if you live in the 80s... Science progresses every day, and since the 90s some major studies have come through that have made the existence of animal language undeniable. The same thing that happened with tool-use (i.e. "tool-use is innately human, it's what separates us from the animals!") has now happened with language. We know that animals can use language, and now the studies are focusing on how the differences between how they use it and how we use it. This is why you won't find anyone writing a paper saying, "We've found evidence that animals can use language!" - because everybody will look at them and wonder if they've been living under a rock.
I mean that the use of language as sophisticated as human language is exclusive to humans.
I do agree that people erred in both suggesting that tool use and communication were uniquely human. We can say with near certainty, however, that the ability to rapidly acquire, comprehend, and produce sophisticated language is exclusively seen in humans.
Mr.Samsa

wrote

:

MillsianUtilitarian

wrote

:Humans have much larger and more sophisticated brains than animals do, and we are capable of more abstract thought and better capable of language comprehension and speech production. This is scientific fact.

Arguably true (it's not quite as clear cut as you're making it, but I can accept it as a general truth). But this doesn't affect whether animals can use language or not.
It isn't clear cut? How so? Perhaps I should clarify that the body size - brain size is probably more important. But, brain sophistication affects the capacity with which animals can use language. With more specialized neural development, more specialization in the related area is possible. If humans can produce language, while mice can't, humans could potentially have an evolutionary drive to develop the capacity to comprehend and produce language, whereas mice wouldn't because it would serve no evolutionary purpose.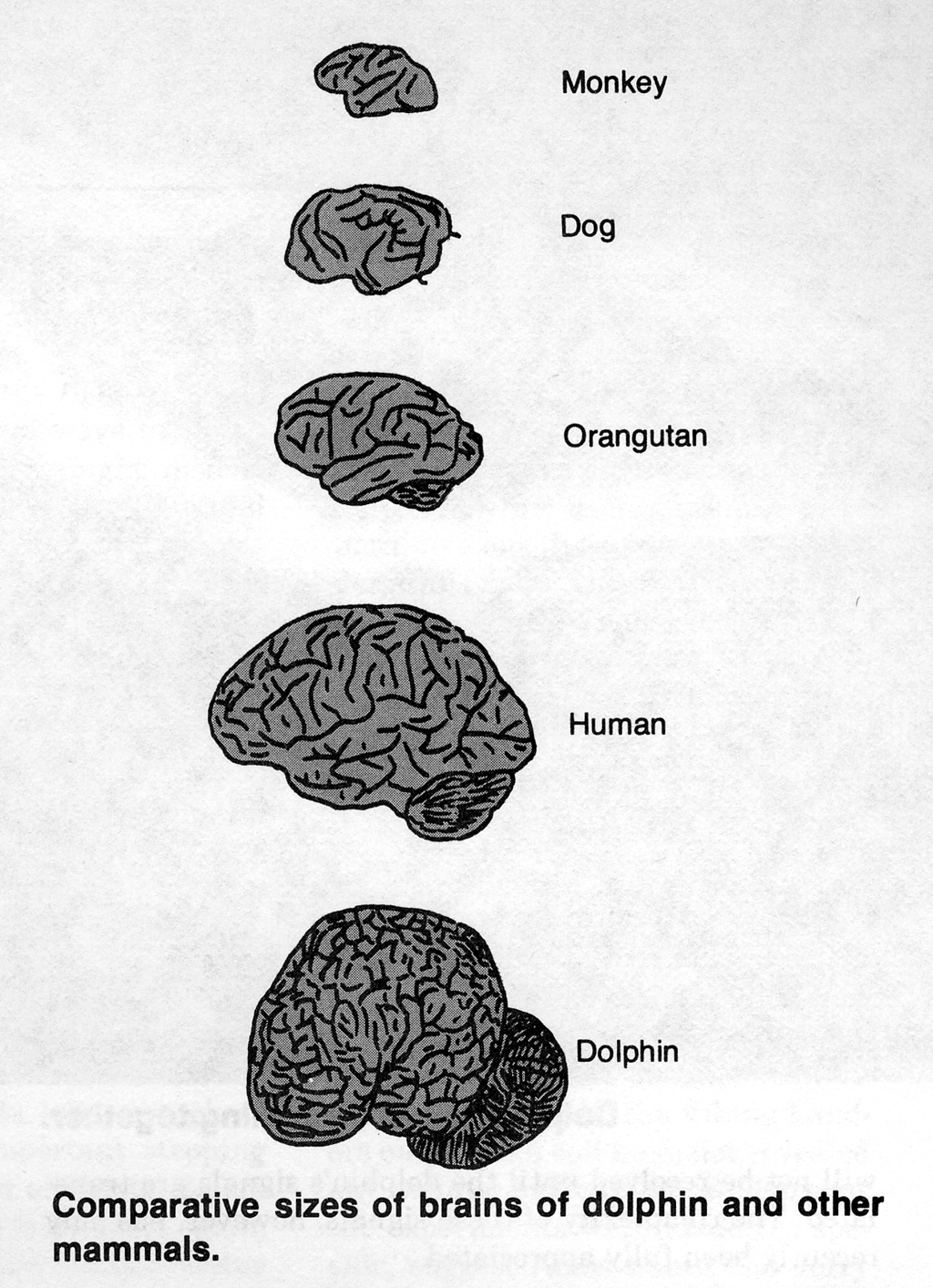 Mr.Samsa

wrote

:

MillsianUtilitarian

wrote

:Seriously - some animals have been trained since babies to speak and comprehend language.

One animal, in the 50s, raised by an average American suburban family. She learnt to vocalise 4 words, despite the fact that chimpanzees and other apes lack the vocal apparatus that makes speech production possible in humans.
Be careful when making claims like that, because all it takes is me to cite one other example to prove you wrong. So, take
Kanzi
, a bonobo raised since infancy to speak and comprehend language.
Also, take a look at Alex:
[youtube]http://www.youtube.com/watch?v=7yGOgs_UlEc[/youtube]
Mr.Samsa

wrote

:

Why do you think birds are the most adept? They're just typically the most studied, it's a sampling bias rather than a biological difference, as far as we know.
They are more studied because they show a higher capacity for language.
Mr.Samsa

wrote

:

Well obviously, which is why I said:

So if the question is whether animals can use language at the level we do, then the answer is clearly "no".

But this doesn't change the fact that animals clearly do use language. If you define language as writing Shakespeare, then they don't use language, but nobody who knows what they're taking about would define language so narrowly.
I'm glad we agree about this. You agree that animals cannot use language as well as humans, and I agree that some animals can communicate. However, you were the one that said animals do not communicate as well because they are not raised in environments that foster developing sophisticated language.
Mr.Samsa

wrote

:It's true that animals don't have language at the level we do, but there are obvious reasons for why this is (i.e. our massive culture which provides our children with intensive language training from the moment they are born until they die).
Mr.Samsa

wrote

:

[Pinker] Renowned as one of today's leading cognitive psychologists?! He's only written a handful of papers and half of them are reviews of his own books (seriously, Google Scholar him). If he were to disappear off the face of the Earth, and everything he'd written was lost too, it would not change cognitive psychology one single bit. Obviously the praise from the Four Horsemen is irrelevant as they aren't in a position to judge his value to science, and I'm not sure what "leading scientists" you're referring to here.
Well, he was a professor of psychology at MIT and is currently one at Harvard. That says something about him (unless you think those institutions hire only
average
professors). Plus, you could say that if any single individual disappeared from the face of the Earth, with exception of perhaps Einstein, then it would not matter at all. All theories that are true are eventually picked up, and if one potential spokesperson is not able to spread the word, then another will surely take his place. It is true that the Four Horsemen's opinions aren't that important, I'll concede that. I really was just throwing them out there because I respect them, and I doubt they would be genuinely confused about his contributions to psychology, but perhaps that is the case.
Mr.Samsa

wrote

:

He seems like a nice guy, and I think he did a good job initially of popularising evolutionary psychology. The problem was that he didn't make it clear that a lot of his books are filled with his speculation, rather than hard scientific facts. This isn't too much of a problem because all pop-science books are like this, nobody would buy them if they were filled with "boring" scientific facts - but the issue is that people read his books, think that a "language instinct" is a proven fact of science, and treat me like an idiot for going against what he's said. In other words, I have laymen who have read a pop-science book trying to correct me and others educated in this field. It's frustrating to say the least, and Pinker is my outlet.
In his new edition of How the Mind Works (2009), in his introduction he said that only a few things needed changing, which overall says that he is quite proud of the predictive quality of the book. And yes, his books, like most, focus on interesting subject matter, but he has done a lot of original work on original questions. Some of them are in HTMW, others I am sure are present in his other books. He isn't like Bill Bryson, who just takes interesting common knowledge and regurgitates it in a way that is accessible and interesting. Also, many who are highly educated in psychology buy into the theory of universal grammar - I haven't met a single member of the psychology faculty at Vanderbilt who does not. So, I think it is unfair to characterize the argument as being the educated psychological elite versus those who follow Pinker's work like the religious who believe in the Bible.
Mr.Samsa

wrote

:

Millsian, you've severely misunderstood not only history, but modern psychology. I seriously don't know where to start.

1) Saying something is "crap" is not really an argument. You need to explain why your opinion of one of the most rigorous fields of psychology is "crap".

2) A "few errors"? Read Chomsky's review of Verbal Behavior, and then at least read the wikipedia page on Skinner. Chomsky did not make a single valid point in his whole review - for 2/3rds of it he was attacking stimulus-response psychology which had nothing to do with Skinner!

3) The cognitive revolution? You mean cognitive psychology which is an extension of behaviorism and uses behavioral principles in order to do its research? Yes.. You might be interested in

this article

by a cognitive psychologist.
1) I know, and that was not an attempt at an argument. If I were to take a brief jab at behaviorism, the idea that the mind is a "black box" that cannot and should not be analyzed is bogus, and has been thoroughly rejected.
2) How does stimulus-response psychology have nothing to do with Skinner? It is critical to behaviorism.
3) Cognitive psychology uses
some
behaviorist principles to do
some
of its research. Behaviorism is not complete crap, and some useful knowledge arose from it, but by and large it is. Any experiment that attempts to analyze a cognitive function, however, violates behaviorist principles. Thus cognitive psychology is diametrically opposed to behaviorism - the two are incompatible. Behaviorism is obsolete.
Anyway, I'm enjoying the discussion, but don't feel like you have to respond to all of my points if you are pressed for time.
Edit: messed up the quoting mechanism.