Scott Mayers

wrote

:

Hmmm.....tell me what you see below:
You didn't ask me, but I like doing Rorschach tests, so here goes: Two people sitting on one-legged milking stools. They face each other and are about to kiss each other on the mouth while simultaneously playing pattycake. Both wear identical late 17th century style wigs.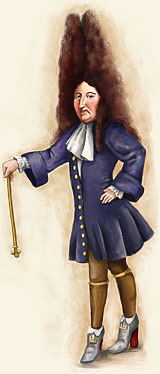 Scott Mayers

wrote

:Definition of "Troll": one who tries to do whatever it takes to prevent another to pass some point without some extorted demands.
Interesting definition. I prefer the conventional one for the simple reason that it has more currency.
In Internet slang, a troll is a person who starts quarrels or upsets people on the Internet to distract and sow discord by posting inflammatory and digressive, extraneous, or off-topic messages in an online community (such as a newsgroup, forum, chat room, or blog) with the intent of provoking readers into displaying emotional responses and normalizing tangential discussion, whether for the troll's amusement or a specific gain.