I made a post at RDF when I first signed up about Cymatics but didn't get a single reply or direction to a previous discussion of it. Now that I think of it, maybe this should be in the physics subforum, so move it if ya wanna.
I picked up this book
at a friend's house one day several months ago and, I guess I was drunk or something, but I said "Oh, pretty pictures" or whatever and put it down. Later I sat down and read some of it and understood what was going on and got wildly excited about it, it's literally one of the coolest things I've ever heard of or seen in my life and so I'm hoping to share that enthusiasm with some people here, or maybe hear some thoughts from those already acquainted with it.
Wiki sez
Cymatics (from Greek: κῦμα "wave"), also known as modal phenomena, is the study of visible sound and vibration, typically on the surface of a plate, diaphragm, or membrane. Directly visualizing vibrations involves using sound to excite media often in the form of particles, pastes, and liquids.

The apparatus employed can be simple, such as a Chladni Plate or advanced such as the CymaScope, a laboratory instrument that makes visible the inherent geometries within sound and music.

The generic term for this field of science is the study of modal phenomena, retitled Cymatics by Hans Jenny, a Swiss medical doctor and a pioneer in this field. The word Cymatics derives from the Greek 'kuma' meaning 'billow' or 'wave,' to describe the periodic effects that sound and vibration has on matter.
Hans Jenny-
Some images: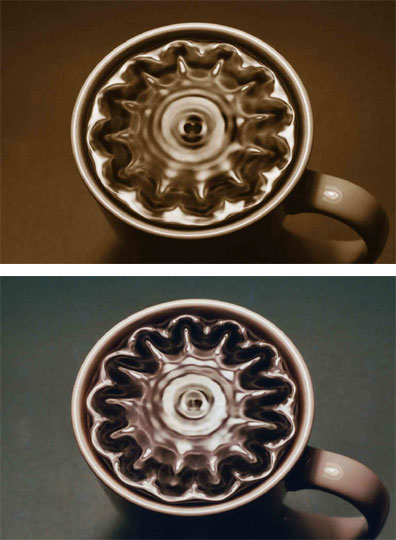 A couple of youtube vids:
http://www.youtube.com/watch?v=GtiSCBXbHAg
http://www.youtube.com/watch?v=WaYvYysQvBU
Also, the guys at
www.cymatics.org
make some absolutely amazing images, actually those last two pictures up there belong to them I think. The performance art, and still image art possibilities with this stuff are off the charts! It's really very exciting to me, and also thrilling to think about what we could learn about the fundamental behavior of matter from Cymatics. Come to think of it, I wonder (in my ignorance of physics) if anyone has made any sort of connection between Cymatics and string theory.....