Inspired by discussion in the 'Latex on Ratskep' thread. I thought it would be a good idea to have a thread in which we unpack some of the core equations in physics and explain what they mean. The aim of this is to aid people in understanding mathematical notation (myself included, as this is probably the area in which my understanding is most limited), to get us used to reading the language (probably the thing that puts many off), and to make good use of the new toys that
LIFE
has provided us. To keep this thread tidy, I will start a
separate thread for discussion
, which will include elucidation of any errata.
To begin, just a little background on what equations are and how they work:
So just what is an equation? Well, at bottom, it's simply a description of a relationship. Let's look at the simplest equation:
[math]
Well, this all looks very straightforward, doesn't it? It's fairly simple to see what is happening here. The important bit of that is the
[math]
sign, which denotes equality. What is on one side of that sign will always be exactly equal to what is on the other side. They are being equated! So the two sides of that sign are directly equivalent.
But what about the terms? Well, in this simple equation, all the terms are variables. The
[math]
sign tells us that where one of the terms on one side is varied, the term on the other side will also vary to compensate. So, for example, if we vary the integers in the input, we will get a different output to reflect this:
[math]
And indeed we can generate another equation that shows that, however the input is varied, the output will always give an equality.
[math]
Where
[math]
is any number and where
[math]
denotes the sum.
Now a look at another familiar equation. We're all (I hope) familiar with Pythagoras' Theorem. It provides a means for calculating the length of one side of a right-angled triangle in Euclidean geometry given the lengths of two sides as input. Formally stated, it tells us that the square of the hypotenuse of a right-angled triangle is equal to the sum of the squares on the other two sides. It looks like this: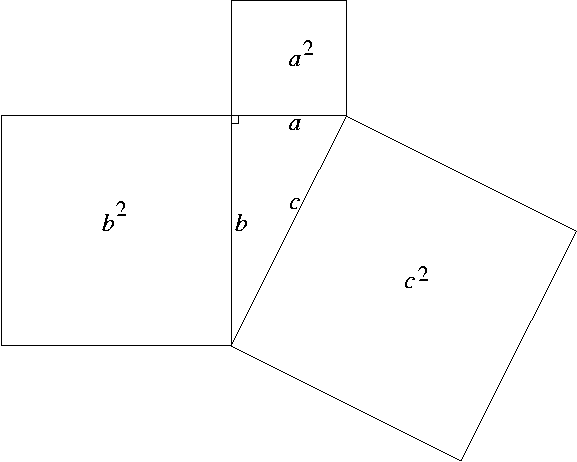 In the notation, this would be
[math]
. Thus, if we take
[math]
to be 3 and
[math]
to be 6, we can carry out the calculation using those two lengths as input:
[math]
and
[math]
, so we sum those two figures to obtain
[math]
. Taking that, we find the square root of 45
[math]
, which gives us a length for the hypotenuse of
[math]
.
We can also carry this out backwards, by taking, for example,
[math]
and
[math]
as input. If we know that
[math]
, and that
[math]
, we can calculate what
[math]
will be.
[math]
and
[math]
, so we can calculate this by subtraction:
[math]
. Now we need the square root of 60
[math]
, and we now know that
[math]
.
7.7 what, you might ask? Well, as long as the units of measurement are consistent, this doesn't matter. By consistent, we mean that either they are expressed in the same units both sides of the equation or that suitable conversions have been carried out.
Now, all of the above is working with variable terms. In physics, the really interesting things happen when we introduce the notion of a constant. Much of physics can be identified with the finding of constant quantities, because these tell us the most interesting things in physics, not least because constants are often the conversion rates between pairs of variables. Take the most famous equation in physics as an example, Einstein's famous mass/energy relationship.
[math]
What this equation tells us is that the energy contained in a given amount of mass is equal to the mass multiplied by the square of the speed of light. In order to unpack it, we need to define the terms properly and give the units in which the terms are measured.
[math]
denotes the energy, and this is measured in joules. A joule is defined as the energy expended in applying a force of 1 newton through 1 metre.
[math]
denotes the mass, and is measured in Kilograms*.
[math]
denotes the speed of light in a vacuum, and this is measured in metres per second. The actual value of this is
[math]
, but for simplicity, we'll take it to be
[math]
, or
[math]
or
[math]
.
So, let's plug in some numbers (actually, just 1 number, namely the mass). Let's take our mass to be 1 Kg for simplicity. First, though, we need to square the speed of light in a vacuum. So, we get
[math]
which gives us
[math]
, which we multiply again by 1 Kg, which gives us
[math]
. This last result can be converted directly to joules, as the units are given in metres per second. From this, we obtain the result that the energy contained in a mass of 1 Kg, is equal to
[math]
joules, or 90,000,000,000,000,000 joules.
This is a huge number. What this tells us is that the energy in a single standard bag of sugar is roughly equivalent to the output of 21.5 million tons of TNT. Putting that into perspective, Little Boy, the bomb dropped on Hiroshima in 1945, had an energy yield of 15,000 tons of TNT.
*Although we are using a term denoting weight in everyday terms, weight is simply the effect of gravity on mass, so in everyday terms, the weight of 1 Kg is the mass of 1 Kg at 1G gravity, the latter being gravity as measured on Earth. So the Kg is a robust measure of mass as long as it is understood that we aren't actually talking about weight, but mass.