Posted: Mar 30, 2016 3:27 pm
I integrated the cool and warm (spawining) mutation constructors into the heuristic and did some trial runs. The complexity of the project has gotten a bit away from me so that integration was a bit of a challenge. There's probably still an issue or two with how with heuristic controls the population of the density space that needs to be worked out but it's basically working.
Here's the results from a 4 generation run of the original founder set (the top two charts showing entropy and sweet, sour, and tension space). The turnaround space (the bottom two charts) haven't been mutated. The shaded ghostly looking areas are where the space defined by the counter-factuals and missing licks. And the yellow angels are were the counterfactuals (I would expect mostly because of a density issue) prevents a lick from inhabiting a "normal" space and the lick got bumped to supernatural space. All lick spaces share the same supernatural space so you get a bitter view of the angles in the turnaround space charts where there are only the founder licks that met the counter-factuals.
Another view of the same results. It shows that pitch and rhythm entropy are covered pretty well, along with sweet and sour spaces. As one might expect, there's not much vertical entropy when there's not much pitch entropy and not much low tension when the lick is sour. I think both these situations can be improved a bit and I'm going to check into that.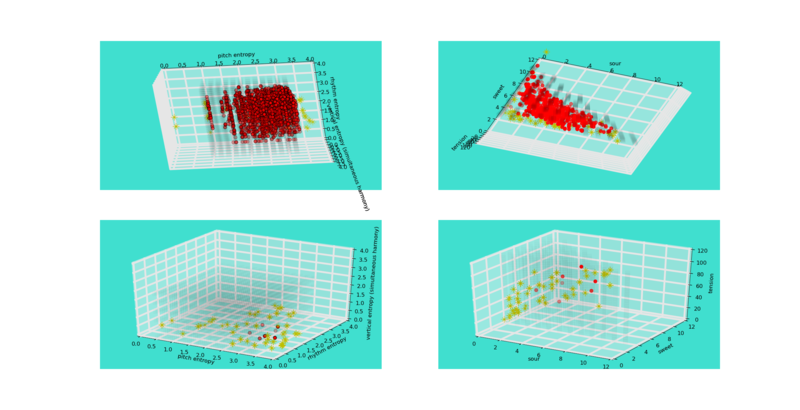 And two views of a 10 generation run.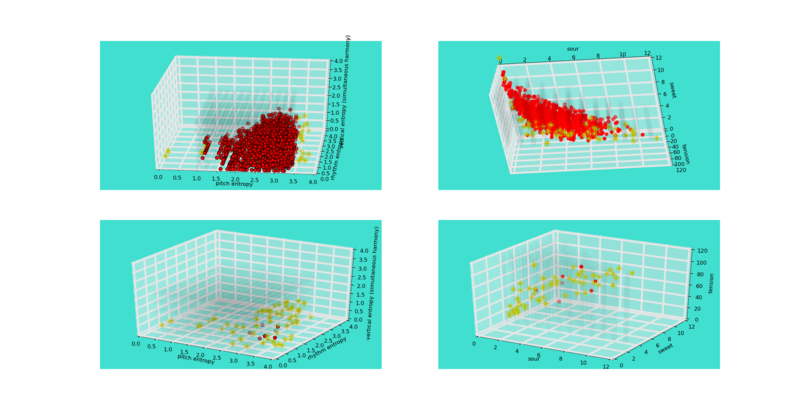 All in all, this looks promising. I'm going to try to fill the space a bit better and then concentrate more on selecting licks and attempting to make actual music from the selections- which should be more interesting.