Cutting the neck to length and angle.
Before I cut the dovetail tenon on the neck I establish the length of the neck (more or less) and the neck angle (more or less).
I covered the importance of neck angle earlier in the thread, for a review of that go
here.
The neck angle is important because it establishes how high the strings are at the saddle when the action of the strings is set. Too high, and the strings put too much torque on the bridge, too low and not enough torque and/or picking room.
It's traditional to have either the 12th fret (classical guitars and early Martins) or the 14th fret (most other acoustics) at the neck/body interface. I'll be using the 14th fret. There's nothing important about this for the intonation of the guitar, the intonation is set by the fret positions and the bridge location. I like having the actual fretboard available for this step, that explains why the neck joint is being done now.
Mark where the 14th fret goes and the end of the dovetail tenon. There should be a bit of a gap between the end of the tenon and the back of the body mortise.
Mark the neck angle. I'm using 3.5 degrees but this will be fine tuned later.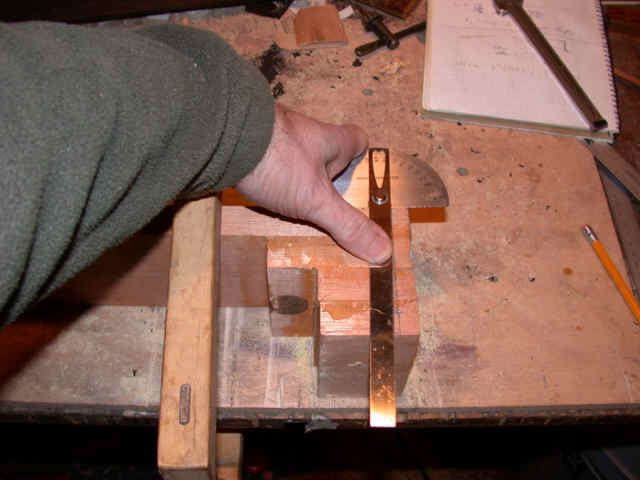 Cut the neck at the end of the tenon. The cut doesn't need to be perfect but it doesn't hurt. The important neck surface will be prepared by the end of the router bit and later hand fitted.